Model 7930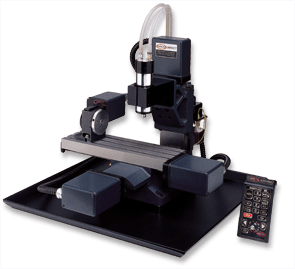 Click here for a printable specs page for Model 7930.
Model 7930 shown with optional 4th axis full contouring Precision rotary table And Precise spindle installed.
Three axis (optional 4th axis) Precision CNC mill with Ground Cast Iron slides, Ground Ball Screws on all three axis, Built in America to last for years in a production environment.
Brushless DC SERVO motors on all axis, with high resolution optical encoders for precise positioning.
This model has a rigid spindle mounting for up to 2 inch diameter spindles, spindles sold separately or you can source it for yourself.
OPTIONS:
CNC for Windows XP Professional
Pendant with Manual Pulse Generator (MPG)
Automatic Way Oiler